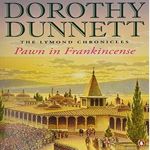 Pawn in Frankincense


by Dorothy Dunnett
© 1966 - © 1994
Pawn in Frankincense


Chapter 21: Constantinople: The Meddáh
Lymond:
Quote:
"My debt to Ishiq I know. My debt to you I am beginning to learn. Mikal, I do not think it possible that I could have come to rely on opium or anything else without my own knowledge. How could it be?'" (357)

D'Aramon
is left stunned at how Lymond has handled his petition with Suleiman the Magnificent. Furious with Lymond's audacity d'Aramon berates the Ambassador,
"I have heard you present a tissue of lies, prostituting the name of France to gain your own ends."
(341, Vintage)
Lymond is unperturbed. France will disown him and d'Aramon will not suffer from his, Francis's behavior. There is a chance that the extravagant gift Suleiman has been refused publicly may be accepted privately. Meanwhile, wasting no time, Gabriel's dark aegis darkens their paths as Lymond and his servants are led into a Danse macabre, meeting the blood spilled and flowing from the ambassador's household; this only a start to other "unholy incidents to follow."
The horrific incidents continue, leaving the household fearful. Suspicious of Lymond, who leaves and returns to the embassy unharmed, d'Aramon confronts him. Antagonism towards Lymond is mounting. While d'Aramon is there to accuse, Lymond points to a package; the filigreed casket and its contents have been returned. D'Aramon notices that close by the seal "someone had inscribed a six-pointed star." (D'Aramon's point of view notes this strange occurrence but it is only later in the chapter that we discover who wrote it and why.)
Lymond realizes he must resign, clarifying why the events have happened and how they must stop.
Quote:
"Your reign of terror is over...The attacks were made in order to force me to leave. While I am Ambassador, it is difficult even for Graham Malett to treat me just as he desires. As a discredited fugitive I shall have no one to avenge me.'"
In great kindness, d'Aramon entreats Lymond to stay. Lymond notes the gesture, considering what this would mean for the embassy and its people. Lymond will not subject the rest to inevitable slaughter.
Quote:
"Let us see what private enterprise will do."
343. Lymond is free to pursue Malett on his terms.
It's time for Lymond to leave the Embassy. While others wish Lymond well, George Gaultier stays within. Four days earlier Lymond had entered GG's room to inform the clockmaker of a tuning fault that he, Lymond, had arranged in order to get communication with Philippa. GG refuses to go to fix the spinet fearing for his safety, even when threatened by Lymond's knife.
No longer in miniver, Lymond sets out wearing a more practical cloak with deep pockets filled with Onophrion Zitwitz's provisions of water and food, enough for several days. Where Lymond is heading, no one knows, and d'Aramon, wishing to remain ignorant, does not ask further.
Jerott
: The slow journey towards Constantinople is frustrating for the former knight. Marthe, Pierre Giles and the Ichneumon are still will him. Archie had already left in Chios but not without some exchange with Jerott. While Jerott does not feel disguise is necessary, Archie's aim is to "make a more modest entry" dressed as a mahout. Archie brings up a possibility or two. First, as a mahout, GRM will not recognize him.
Quote:
"I might lay my finger on one of the weans. Better a fowl in hand nor two flying, whichever fowl it will be.'" p.346
Two: GRM may have already killed Francis. With this, Archie gets a wee bit personal, wanting to know if Jerott's plans to be sober. Jerott is somewhat insulted but Archie brings up reality:
Quote:
"For if Mr. Crawford is killed, we'll need all the wit we can muster between us."
Jerott suffers around Marthe, but she is civil, if distant. She attaches herself to Giles. At one point Marthe is overjoyed when she discovers coins from the days of Alexander. The exuberance short lived as "... the flame was extinguished, and she was careful again." 347
Jerott wonders where Giles will be staying and gleans some information,
Quote:
"The girl here has an uncle who is buying a workshop between the Bazaar and the Hippodrome. They can give me a bed."
347 GG will start up a business as a clockmaker. Interesting information. Jerott is annoyed about it.
As they approach Bursa, Jerott does some self reflection:
Quote:
"All he had done had been done for Lymond. With the vanishing of that star from his firmament he had found nothing to take its place: nothing to drive him but pique."
Bursa is mourning for the death of Suleiman's son. Arranged by the sultan himself,
Quote:
"It was said that from behind the hangings, Suleiman watched his son die."
349 Jerott hastens to leave the town. Mustafa leaves his widow and a four year old child.
Ten days later the travelers cross the Bosphorus. Onophrion Zitwitz, greets Jerott and company with updates of the state of affairs with Mr. Crawford. There has been no news from Mr. Crawfored and Jerott reports that they do not have the other child if that is what OZ wants to know. However, there is one message that Jerott is keen on delivering to GG:
Quote:
"He should perhaps know...that he has bought a house half-way between the Bazaar and the Hippodrome, and that M. Giles is going to stay with him. With his ichneumon.'"
349 Perhaps GG will appreciate the animal more than Jerott does.
As Marthe said, the child is at the House of the Nightingale. He is beaten every day, thus accounting for his good manners. Food is withheld until he recites
Quote:
"the words he did not understand and practised the other things he had to do."
Of note is that the boy can recall two journeys and he compares them. The voyage in the sponge boat was not as pleasant as the one he was on long time ago when he ate a lot and was sleepy. (Quite impressive for a little guy to do--compare journeys.)
Názik, the bird merchant, keeps the boys watered, fed and in good looks. Názik has a house and earns the most from keeping the child Khaireddin.
Quote:
If the great Lord dies, he might keep the boy and make a great fortune off him
(350) As long as the child's life is not endangered, Nazik can use the child as he pleases. For the most part the child behaves well. Since he has been instructed that the child be seen, he lets the child talk with the story-teller. Nazik knows his shop is watched.
At the Seraglio of Topkapi. Philippa is distraught over Kuzum's beating. Any bond forged is lost; Kúzum does not trust Philippa. "
Quote:
When she spoke to him, he paid no attention. She had failed him, she understood.
" 351
Philippa concludes that Gabriel will never allow her to be free, and worse, that the "final conflict with Lymond would be forced to its climax" Philippa remains grimly determined despite what awaits her. She feigns a cheerful disposition, but conductsher own interior monologue.
The day comes when Philippa must play the spinet. In the drop front, she finds a small card written in English
"I have tuned this myself."
with Lymond's initials. (352) Philippa finds a note out of tune. Checking the faulty string "coiled round its wrest pin was small scrap of paper." The scrap had a minute drawing of the star of David. After trying to fix it Philippa knows that its repair requires someone from the outside to fix it. After deliberating whether this is a trick from GRM, she deduces the note must be from Mr. Crawford (353)
Meanwhile, Khourrém Sultana asks Philippa to rewrite a letter in English to Lymond about a Philippa Somerville and not being able to accept the gift from the French Ambassador. Philippa concludes that the princess has not made the connection between herself and the Pearl of Fortune. Philippa adds a small six pointed star close to the seal (which d'Aramon will see later.)
Lymond has observed Ishiq and notices how well he guides the blind Meddáh (storyteller.) Lymond charms the ferryman to take himself and Ishiq over the Golden Horn, while assuming the role of a Meddáh. It is through this disguise that he is able to meet Khaireddin. This meddáh tells stories in which a child always triumphs. 355. "and to the small one from the nightingale shop he was always gentle." 355.
At one point a slender man calls Ishiq and offers him and his master food and a bed for the night. When at the home, the master falls asleep. A second man walks in. This man removes the grey wig. Lymond, sick, recognizes Míkál.
Lymond asks what Mikal gave him to fall asleep. Opium. Lymond has been dependent on it and only now, that he is without it, does he feel its horrid effects.
Ishiq is asleep as Lymond learns all this from Mikal, who had been days looking for him. Ishiq did not betray Lymond. "Thy betrayer, beautiful as a bird, is the colour and form of thy voice." (357)
Lymond realizes the danger he is in and asks Mikal what remedy there is. Mikal gives him two paths. Lymond chooses the path that will lead to GRM's destruction, and possibly his own. (358)
Some things to reflect on and discuss:
:
There are a few point of views in this chapter.
There are also events happening out of order (Philippa rewriting the letter and adding the star of David, which d'Aramon sees at the beginning of the chapter. ) How does this style work for you as reader and what is the sense that it creates?
What do you make of the events and how they are presented? Do you think it could create the sense of anxiety for the reader as the reader feels for the characters?
This chapter is sad with regard to the death of Mustafa as his father watches from behind the hangings.
This chapter features fathers and sons, and we have seen Jubrael Pasha (GRM) cruelly having his "son" whipped.
When I read the possibility that Lymond could have been killed, I felt Jerott's desolation. Had I been reading these books as they came out, I would have been terrified that DD would have killed Lymond off.
Jerott's self reflection about his own duties. That introspection requires more analysis. Thoughts on that?
This chapter is packed and there is still quite a bit to bring up. There were a few allusions, which I will leave to the experts.
Other questions?
Here are some images:
Beyazit mosque (above)
The Beyazit mosque (above) overlooking The Golden Horn